Talking of banks not being trusted, do we have reasons to mis-trust them? Yes, many. Not only are many banks regularly called out for bad behaviour, but some have gone to the extremes of forging customers signatures. Then there has been the UK's PPI scandal and Wells Fargo's false account openings, and now there is even more extreme behaviour, such as editing telephone conversations with customers to make the bank look better. Could such extreme behaviour be true?
Apparently so, as I was reminded by Ian Fraser this weekend in his article on RBS in the Scottish Mail on Sunday.
In an extreme scenario, the forgery scandal could spell curtains for RBS and give rise to to a debt amnesty on an unprecedented scale. My commentary in Scottish MoS. pic.twitter.com/LyYnJC2cUB
— Ian Fraser (@Ian_Fraser) February 4, 2018
According to the article, Ian was informed by Andy Keats of the SME alliance that the bank's recording of conversations with him were very different to the real conversations that took place. Ian had recorded the telephone calls and had the unedited version, that showed the bank was actively trying to harm his small business. In the bank's version, given to the regulators, it showed a completely different conversation that made it appear the bank was trying to help support his small business.
This seems unprecedented if true, and shows the lengths banks go to in order to gain bonuses and sell under previous regime. In the case of RBS's small business unit, they are accused of actively trying to bankrupt their clients, in order to pick up their assets on the cheap and make a quick buck to get bigger bonuses through higher profits.
Grilled by MP's last week, RBS Chief Executive Ross McEwan passed the blame for these bad practices down the ladder, and said that the mistreatment of small businesses was not his fault, but the fault of the head of the RBS Global Restructuring Group (GRG).
"Well I think it has to be the senior executive of that operation that takes the accountability," he said, suggesting blame would not be placed on boardroom leaders of the bank.
Really? Surely a Chief Executive should be accountable as he or she is the Chief. As they say, a fish rots from the head down and so does a bank. I believe that the most senior person in the organisation should be liable for any illicit activity that takes place in their business, and can only avoid punishment if they can prove such activity was actively hidden from them.
Meanwhile, Ross "I'm not guilty" McEwan went on to say that a damning report compiled by consultancy Promontory for the FCA could be published. "Should the FCA want to publish the report we would not object," Mr McEwan told MPs.
For some time, the bank has firmly opposed publication and not surprising when a summary of the report published n autumn 2017 revealed that 92% of businesses transferred to GRG were mistreated in some way.
Andy Keats, who leads the SME Alliance, has been at the heart of trying to get this bad management caught and penalised, and it looks like something will happen.
Oh, and all this on top of being caught out systematically forging customers signatures. Real Media ran a scoop yesterday stating that: "RBS regularly forged customer signatures on documents and files held by the bank, according to an ex-staff member who worked in commercial banking for 8 years. The whistleblower told Real Media they were trained in lifting customer signatures in the first week of employment, reproducing them from the Image Signature Verification (ISV) software at the bank."
The whistleblower stated that the bank has a mandated system called ISV that stores an electronic signature of the customer. If something wasn't signed, staff would take a copy of the ISV signature, cut it out, take a few photocopies of it so you lose any lines or you could hold it up against a window and trace it through. And that was a common practice and they were taught that in their first week at the bank.
Wow ... and yet, for all this, the sad truth is that no banker ever gets jailed for being a bully, fraud and cheat. They might get jailed for murder, but anything less than that and they normally walk free.
Not always though …
HBOS manager and other City financiers jailed over £245m loans scam, The Guardian, February 2017
Fraud bankers and consultants indulged in sex parties and luxury holidays as their victims lost homes and businesses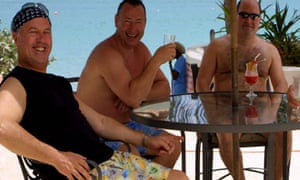 A group of bankers who ran an "utterly corrupt scheme" that left hundreds of small business owners "cheated, defeated and penniless" have been sentenced to almost 50 years in jail.
Lynden Scourfield, a former senior HBOS manager, was sentenced to 11 years and three months in prison after the judge found he had "sold your soul, for sex, for luxury trips with and without your wife – for bling and for swag".
Scourfield, 54, was jailed on Thursday after pleading guilty to the extensive scheme that drained the bank and small businesses of around £245m and left hundreds of people in severe financial difficulties.
Judge Beddoe described Scourfield as an "utterly corrupt bank manager" who, driven by "rapacious greed", had "got his tentacles into the businesses of ordinary and honest people and ripped them apart without a thought for those affected".
Five of Scourfield's partners in the multi-year scheme – the proceeds of which were spent on lavish parties, superyachts and sex parties – were also sentenced, bringing the total jail time to 47-and-half-years.
Consultant David Mills, Scourfield's business associate, was sentenced to 15 years in jail for his role in the extensive fraud. Mills arranged holidays and orgies for Scourfield in return for being introduced to HBOS' clients, Southwark crown court heard.
Sentencing Scourfield, Beddoe said: "I do not know when or how David Mills got his hold on you, but that he did. He is the devil to whom you sold your soul, for sex, for luxury trips with and without your wife – for bling and for swag."
During the four-month trial, one woman giving evidence said she worked at a pornographic magazine company under Scourfield's portfolio and was asked to arrange girls to come to parties for the "posh twat banker friends". A sex worker told the court that Scourfield resembled the actor Danny DeVito.
A diary entry from one of the sex workers read: "Met guys, me, Amber and Suzie. Chinese meal. Then drinks at flat and quick shag. Easy £1,500."
The jury also heard how, apart from funding the evening entertainments, Mills also applied to have a second card on his American Express account, which was issued under Scourfield's name.
Also sentenced were Michael Bancroft, 73, who was jailed for 10 years; Mark Dobson, 56, for four-and-a-half years; and John Cartwright, 72, for three-and-a-half years for their various roles in the fraud between 2003 and 2007.
Mills's wife Alison, 51, also played a major role in the corruption and was sentenced to three-and-a-half years. The Mills owned a £2m superyacht called Powder Monkey which the prosecution said was funded by the elaborate fraud scheme.
Some of the victims lost their companies, livelihoods and even their homes as a result of the scam.
Paul and Nikki Turner, from Cambridge, were ignored for years when they tried to report what was going on after their publishing company, Zenith, was run into the ground in the scam.
"They defrauded us, denied for 10 years that the fraud had happened, ignored the debt from the fraud and tried to evict us 22 times in order to cover up the fraud," Mrs Turner said.
"It's a huge success for us that the trial has gone on. The other victims have gone through terrible things, they have gone through the loss of businesses and lost homes. Other people lost everything, including marriages broken up, because of this."
The courtroom was packed with victims and their supporters, who erupted into applause and cheers when the sentences were passed.
Beddoe said Scourfield had not shown a "shred of remorse" for ruining the lives of the employers and employees of those companies. He said the scheme "ripped apart those businesses without a thought for the lives and livelihoods of those affected in order to satisfy their rapacious desire for money and the trappings of wealth".
He added: "People haven't just lost money but in some instances their homes, family and friends. People who could have expected to be comfortable in retirement were left cheated, defeated and penniless."
Mills lavished the Scourfields with clothes, jewellery, luxury hotel stays, business-class flights and expensive meals at an oyster bar and a cheesecake restaurant. His wife invited Dobson and the Scourfields to go on trips to Ascot, while Mills, Bancroft, Scourfield and their wives holidayed together in Barbados to celebrate her 40th birthday.
Many of the victims said they were going to continue to press Lloyds BankingGroup, which took over HBOS during the 2008 banking crisis, for compensation, claiming that the bank knew about the wrongdoing earlier and failed to investigate properly. The bank denied this.
Lloyds said it would review individual customers cases and may pay out some relief. "Whilst we have fully reviewed customer concerns raised previously, we will review any new concerns on a case-by-case basis taking into account any relevant new information from the trial," the bank said.
The case reached court following a six-year investigation by Thames Valley Police.
Stephen Rowland, specialist prosecutor from the CPS specialist fraud division, said: "Many people have had their lives ruined by the corrupt behaviour of Lynden Scourfield, David Mills and their associates. Scourfield worked in a section of his bank which was supposed to help struggling businesses but instead, motivated by greed, he went about stripping them of their assets."
Mills was convicted of conspiracy to corrupt, four counts of fraudulent trading and conspiracy to conceal criminal property, and his wife of conspiracy to conceal criminal property.
Scourfield pleaded guilty before the trial of conspiracy to corrupt, four counts of fraudulent trading and conspiracy to launder the proceeds of crime. Bancroft was convicted of conspiracy to corrupt, three counts of fraudulent trading and one of conspiracy to conceal criminal property.
Cartwright, from Hyde, Cheshire, was convicted of fraudulent trading and conspiracy to conceal criminal property, while Dobson, from Bishop's Stortford, Hertfordshire, was found guilty of conspiracy to corrupt and conspiracy to conceal criminal property.
Chris M Skinner
Chris Skinner is best known as an independent commentator on the financial markets through his blog, TheFinanser.com, as author of the bestselling book Digital Bank, and Chair of the European networking forum the Financial Services Club. He has been voted one of the most influential people in banking by The Financial Brand (as well as one of the best blogs), a FinTech Titan (Next Bank), one of the Fintech Leaders you need to follow (City AM, Deluxe and Jax Finance), as well as one of the Top 40 most influential people in financial technology by the Wall Street Journal's Financial News. To learn more click here...